SIMPLE BUT POWERFUL
Unique automatic sound localization technology and user friendly light indication help greatly improve your communication efficiency.





TRUE 360° ALL DIRECTION SOUND COLLECTION
8m sound collection form all directions, suitable for most enterprise conferences.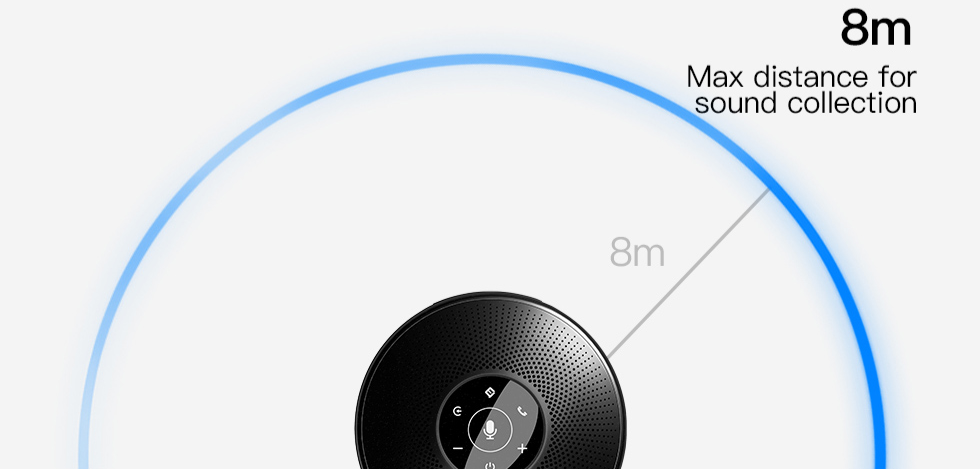 The voice is rich in details. While playing music, the three frequencies are balanced and the bass is enhanced.
COMPATIBLE WITH MOST DEVICES ON THE MARKET
Bluethooh 4.2
30m Bluetooth connection distance.
Long press for 3s to power off. If ON, short press to display the battery.
Built – in 2500mAh lithium battery, one month long standby.
Product information
*The following data are collected form the laboratory, and may vary slightly depending on the specific environment.
Loud speaker Rated Output power: 3W RMS
Frequency response: 20Hz~20KHz(+/-1dB)
Bluetooth version: 4.2
Distance 1-8 m
Maximum output power: 1W
Battery: 2500mAh
Charging time: 3-4 hours
Sound collection range: 360°
Duration: 10 hours
SNR rated power >80dB
Microphone sensitivity: 26dB
Microphone frequency response: 100Hz~8KHz
Weight: 300g
4 microphone array
1x Microphone
1x MicroUSB cable
1x Audio cabme
1x Quick guide
1x Instruction manual